Weekend Report
This Saturday I was going to take the now officially renamed 'Half Price' out to Rose island for the weekend, Alan up the dock however invited me out on his beautiful Aluminum Catamaran, so I greatfully accepted.
It was a great day, we sailed out to a small bay off the island and anchored off in water shallow enough to stand in, so the first job was to clean the boat, all the guys got in the water and scrubbed both hulls.
Then it was time for Lunch and Alan got the BBQ going. After lunch it was Diving off the Bimini roof and generally snorckling about and having a good time in the water. This is the point at which I realized both sea urchins in your feet and jellyfish on your chest hurt quite a lot.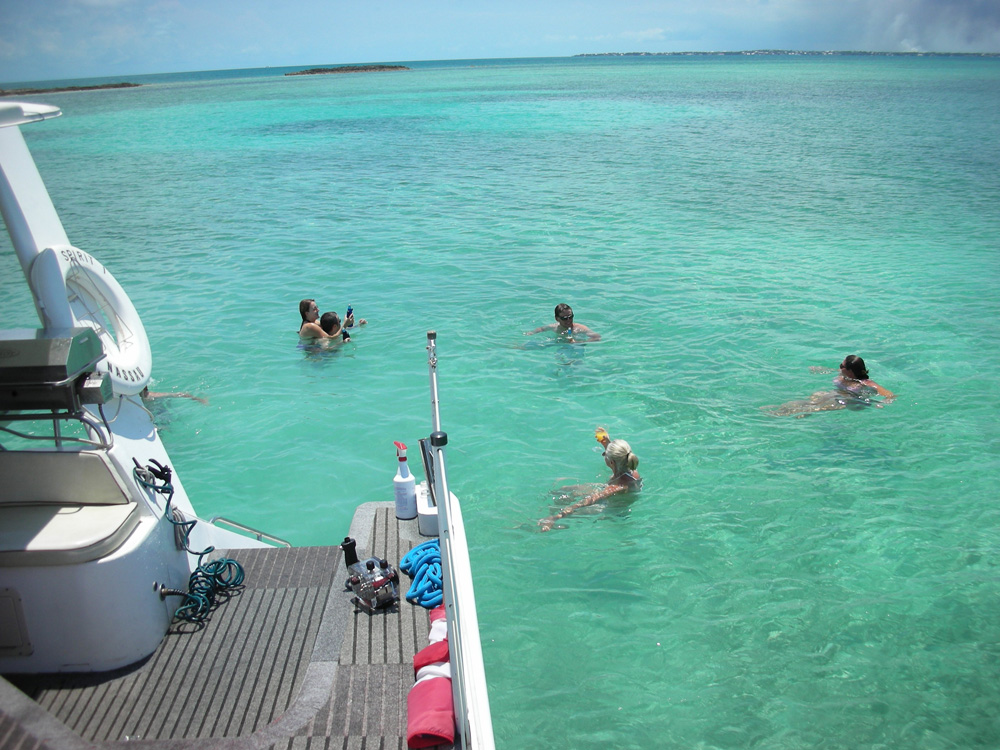 Note the beers in the picture, the whole day was a bit of an alcohol fest, but not to worry, Alan had a cunning plan. On the way back we strung a line from the boarding platform at the back, then jumped in at the front letting the boat pass over our heads before hauling ourselves out on the line trailing behind the boat. Such fun I did it a number of times and sobered myself up for the evening drinks and singing.
All in all a very good day, yesterday was spent at Dave's house lounging on the sofa or by the pool recovering.
Today I have woken to the sound of strong wind and rain through the rigging which looks like it wont be subsiding anytime soon so for the first time in two weeks I've put trousers on instead of swimming shorts. So back to reality again and on with the repair work to the boat. Hopefully the weathers going to pick up for the weekend and I'll take 'Half Price' out for a little spin.
Wishing you all well.
Lx.
May 7, 2007 at 14:52